Ami Bar-Mashiah, CEO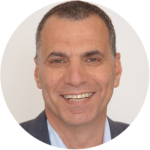 Mr. Bar-Mashiah provides overall direction for the company, leading business development for expansion of both borrower and investor sectors. Mr. Bar-Mashiah is a respected mortgage banker with over three decades of experience and a keen understanding of the New York region real estate market. Prior to establishing Bayport Funding, Mr. Bar-Mashiah was owner/president of Mortgage Enterprise, Ltd., a New York State Licensed Mortgage Banker. Mortgage Enterprise, which was sold in 2009, originated more than $2.5 billion in residential mortgages. Mr. Bar-Mashiah has served on various mortgage advisory boards, including Citicorp, Chemical Bank and GreenPoint Mortgage.
In addition to his mortgage banking activity, Mr. Bar-Mashiah applied his residential real estate expertise to the management of an investment fund he founded to provide short-term acquisition financing for real estate professionals seeking to renovate properties in the New York metropolitan area.
Mr. Bar-Mashiah received a Bachelor of Arts in Economics from the City University of New York, Queens College.