VOLUME 1 | Q4 2019


A MESSAGE FROM OUR
CEO
Now is an exciting time for Bayport Funding. We've had another successful year and we are growing. We've expanded with new offices in New Jersey and Florida and have plans to open in other states where we see emerging opportunities. We recognize that many of our seasoned Bayport Funding sponsors are expanding their footprint and we want to walk with you.

Other exciting news at Bayport is that we have just launched a new loan product, our 30-year fixed rate program for 1 to 4 family single asset or portfolio loans. This new loan product is designed to help our borrowers successfully transition their property acquisitions, rehab/construction to stabilization and long-term permanent financing.

To execute this mission, we have added a new member to our growing team, Daniel Goldbard, Director of Structured Finance.

Stay tuned for more exciting things happening at Bayport!

Wishing you much success, Ami Bar-Mashiah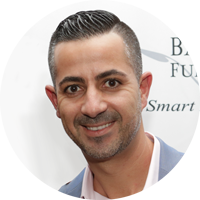 Isaac Benshabat
Barca Development LLC
Owner


How did you start your career in real estate?
I was working as a delivery driver in a supermarket when I first arrived in the US and got tired and bored and was looking for a challenging and more rewarding career. I picked up the paper and opened the classifieds section, I called couple offices and went on an interview the next day, the rest is history.

Do you remember your first deal, and can you tell me about it?
It was a single family in Jamaica, Queens. Purchased it sometime in 2007, I remember I was so scared since I didn't have any experience in construction and managing such project was kinda scary but I followed my instinct and had lots of sales experience in that part of Queens so I was very familiar with the market.

What is the most important lesson you learned from that deal?
If you never try, you'll never know!

What type of real estate do you invest in i.e.,1-4 family, multi-family, mixed use, ground-up construction?
I focus on residential rehabs. My main part of the business is buying properties, gutting and renovating them, and than sell them at market price. In the last few years I got into larger projects which most of them are ground up construction.

How many deals do you do in a year?
Only my wife and my accountant has the answer to this question

Do you flip or do you keep for your portfolio? I resell all the single-family homes, I like to keep the multi-family homes but this is a decision I make based on the scenario.

What advice would you give to the first-time real estate investor?
I believe that in every business, before you establish your own, you must gain experience. The same applies to Real Estate. You must have significant knowledge in the market you are going to invest, make sure you are calculating all your costs and don't let others do it for you! The broker presenting the deal to you might tell you the resale value for the property is 800k which in reality, is only 730k, this can wipe out most of your future profit.


HOT
TOPICS


NEW RENTAL REGULATIONS

With roughly 5.4 million people renting in New York City, as of June 2019, New York State approved a package of rent laws designed to give strong new protections to renters in New York City. This was the result of state legislators and tenants' rights advocates arguing with the city that it is necessary to maintain affordability and stability in a city where 65 percent of residents are renters.
https://streeteasy.com/blog/new-york-rent-laws-2019/

BUSINESS REGISTER STOREFRONTS
With nationwide epidemic of closed down store fronts causing eye sores around the nation for the public, the New York City Council takes action. In the effort to get a better handle on the count of vacant store fronts, the New York City Council passed a new bill, Int. No. 1472. This bill will require business owners to register storefronts with the city to be part of a public database of retail spaces. Their goal is to be able to keep track of vacancies and creates a resource for business owners in search of new outposts.
https://wwd-com.cdn.ampproject.org/c/s/wwd.com/fashion-news/fashion-scoops/new-york-city-council-passes-bill-to-require-businesses-to-register-storefronts-1203225996/amp/

BAYPORT IS EXPANDING TO A LOCATION NEAR YOU!
With increased demand for our services around the nation, Bayport is in the process of expanding to locations in Florida and New Jersey. Keep a close eye on our website to stay updated.


PRO
TALK
How to Prevent Your Pipes from Freezing This Winter
Burst pipes are one of the most common causes of property damage. With temperatures dropping soon, learn how you can prevent this from happening to your properties.

Pipes located in unheated interior spaces such as basements, attics and garages are at the most risk. Even pipes running through cabinets or exterior walls can also freeze. Fortunately, there are some simple precautions you can take to keep your pipes from bursting and keep your properties dry.

Some preventative measures you can take:
Open kitchen and bathroom cabinet doors
This will allow warm are to circulate around plumbing. Be sure to remove any chemicals or harmful cleaners if you have small children or pets.


Let cold water slowly drip from a faucet served by exposed pipes
Even a trickle of water can help prevent pipes from freezing.


Keep the thermostat set to the same temperature during the day and night
Trying to save money during extremely low temperatures by setting back your thermostat overnight could cost you more than a high heating bill.


Planning on being away during cold weather?
Leave your thermostat set to no lower than 55º Fahrenheit.


Add insulation
One of the most inexpensive measures you can take to prevent your pipes from freezing is to liberally install pipe insulation which can cost as little as 50 cents per linear foot. For a long-term solution insulate attics, basements and crawl space and seal any cracks around windows, doors and sill plates.




RECENT
TRANSACTIONS


| | |
| --- | --- |
| West 139th Street, Harlem $1,575,000 | Keap Street, Brooklyn $3,800,000 |
| SW 31st CT, Miramar, FL $400,000 | Woodlawn Avenue, Jersey City, NJ $365,000 |
| New York Avenue, Brooklyn $1,050,000 | Irving Place, Brooklyn $2,485,300 |

THE
LEGAL
CORNER

Lawrence Andelsman P.C.

Holding Your Real Estate in an LLC or Corporation

Whether you own a single rental home, preside over several investment properties, or fix and flip, putting real estate in a Limited Liability Company (LLC) or Corporation may be the safest option for you.

One of the main reasons putting a house in an LLC or Corporation is asset protection. In the event someone is injured on your property or in the case of any lawsuit, the LLC or Corporation that owns the property will be at risk, not the individual. If the individual is liable all personal assets are at risk. In the case of the LLC or Corporation, only the assets of the entity are at risk. The formation of a LLC or Corporation protects your personal assets, such as your own home, vehicles, retirement accounts and any other investments you wish to keep. Additionally, many investors choose to own each property in a separate, single purpose, LLC or Corporation, thus providing further protection for each property. It should also be noted that property insurance does not cover all losses and claims. The LLC and Corporation can protect against personal liability for claims not covered by insurance.

In addition to the liability protection, there are many tax benefits to owning and holding properties in an entity. The choice between an LLC or Corporation would often depend upon the type of investment (i.e fix and flip, rental, short/long-term). An accountant experienced in real estate matters should be consulted to explain.
| | |
| --- | --- |
| © Bayport Funding LLC. 2019 All Rights Reserved. | |