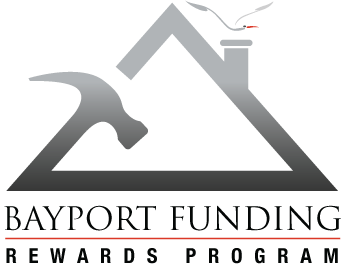 Bayport's Reward Program is valid January 2021 through December 2021. Earn rewards by completing a minimum of three (3) deals before December 31st, 2021. Your Virtual Punch Card will be stamped after each loan closing. After you close 3 deals during the calendar year (2021), you will receive a 1/2 point fee reduction on all following deals through December 31, 2021. See below for additional rewards.
Easy Enrollment in just 3 steps
DEAL #3 – 2 PTS, $100 Home Depot Gift Card

DEAL #4 – 1.5 PTS (.5 Point Fee Reduction)
DEAL #7 – 1.5 PTS, $250 Home Depot Gift Card

DEAL #10 – .25% Rate Reduction, 1.5 PTS, $1,000 Home Depot Gift Card
Online enrollment is required. The program runs from January through December each calendar year. Participants must sign up again each calendar year, enrollment is not automatically renewed. Must meet program requirements, cannot be combined with any other offers. If there are multiple guarantors on a loan, each borrower will receive partial credit. In order to be eligible for a stamp/punch, all loans with Bayport Funding must be in good standing. All stamps/punches are non-transferable. Loans do not qualify if they are in deferral or modification, above 90% LTC or are over 24 months old.